It took me a long to realize it, but I love organization. Specifically, I love record-keeping: diaries, lists, even some sad attempts at scrapbooking. One of my favorite record-keeping tools is GoodReads. Reading is important to me, and being able to keep track of what I read, when I read it, and what I thought about it is immensely satisfying for reasons I can't really identify. Since 2007, everything I've read has been meticulously rated and catalogued. One unintended result of this records obsession is that I can effortlessly track my reading habits and trends. What were my favorite and least favorite books in a given year? What did I read the most of?
My Favorite Books of 2015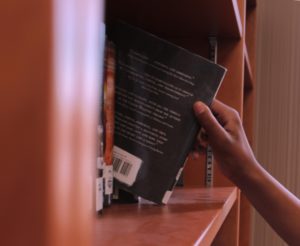 I gave only four 5-star reviews last year: Ruth Ozeki's A Tale For the Time Being (quite recent), NoViolet Buluwayo's We Need New Names (also quite recent), Malcolm Lowry's Under the Volcano (not so recent), and Pär Lagerkvist's Barabbas (also not so recent).
February 2015: Under the Volcano, Malcolm Lowry
It's been my goal for the last few years to read every novel on the TIME Top 100 Novels of the 20th Century list, which is how I stumbled across Under the Volcano. As a revered English classic, the book needs no selling, no praise, no recommendation.
What struck me was Lowry's complex and intricate prose and the examination of expatriate life. Having lived for a few years in South Korea, the genre of "expats and tourists behaving badly" holds a special place in my heart: The Sun Also Rises, The Sheltering Sky, Tropic of Cancer, and Giovanni's Room were some of my favorite reads in my tour of 20th century English literature. Under the Volcano is part of that genre, but also more. It's a lyrical character study, a sympathetic, heart-wrenching exploration of alcoholism and interpersonal relationships, and a study of Mexican politics in the 1930s.
May 2015: A Tale for the Time Being, Ruth Ozeki
I think the only reason A Tale for the Time Being isn't on the TIME Top 100 list is because it was published in 2013 and the TIME list was assembled in 2005. I hope so, anyway.
In brief, A Tale for the Time Being is about a woman in Canada, Ruth, who finds and reads a diary that washed up along the coast. It turns out to be written by a Japanese schoolgirl, Nao, some years earlier.
Of course it's also about much more than that. There's prehistoric flora, quantum entanglement, philosophy, Zen monks, and insects (among others). But everything falls under that found diary and Ruth's relationship to it.
Ozeki displays an incredible technical range. She ends up writing from the perspective of five different people (not all of them are equally prominent; I don't think it's a spoiler to say that the book focuses primarily on two of them, so the book is much more focused than it sounds like it would be with five different protagonists) and gives them all incredibly distinct and personal voices. There are other metatextual indications when the writing shifts perspective, like a different font or a chapter title or so on, but Ozeki gives each of them a strong enough voice that you would be able to tell anyway.
A Tale for the Time Being is not only a technical achievement, though. Ozeki also creates a compelling story. After rationing out portions of the book like literary chocolate, at maybe halfway through I just binged and read the whole thing. I might have cried. (As in: I cried.)
If you're in the mood for experiments with narrative form, bildungsroman, or a sampling of Japanese history and philosophy, A Tale for the Time Being is for you.
December 4th, 2015: We Need New Names, NoViolet Bulawayo
This book was a mostly-random selection from the "world literature" shelf at the library. "Mostly-random" because I'd heard a little buzz about it beforehand; enough that I checked this book out when I couldn't find anything from my TIME Top 100 list. (It seems Stockholm biblioteket's copy of The Buddha of Suburbia is lost forever.) Like A Tale for the Time Being, I think We Need New Names would be a strong contender for an updated and more diverse TIME Top 100 list.
We Need New Names is about the Zimbabwean Darling, first as a child in Zimbabwe and later as a teenager in the United States. Bulawayo's short story "Hitting Budapest" won the Caine prize, and she later expanded it into a novel. The book lends itself to comparisons with Adichie's Americanah; I think readers who like one will like the other. The difference (aside from setting) is in focus: Bulawayo focuses on details and short episodes, leaving much implied or suggested, while Adichie went for a grand epic of everything. Bulawayo's voice is also unique and clear. For a sample, you can read "Hitting Budapest" online.
December 27th, 2015: Barabbas, Pär Lagerkvist
This one was a reread for me. You might recall my earlier lament that Lagerkvist English translations are few and far between. Barabbas is one of his works that has an English translation, and a good one at that. That's how I originally read it in university. Last year I picked up a copy from the library to give it another go, this time in the original Swedish. Lagerkvist's style is sparse and straightforward, and the novel itself is quite short, so it was good Swedish practice for me. Likewise the English translation would be good English practice.
Barabbas is the story of Barabbas, the criminal who walked free while Christ was crucified. Lagerkvist tells us the story of this marginal figure, exploring the issues of faith, doubt, and belief through Barabbas's struggle to understand his fate and the nascent Christian faith.
What were your favorite books that you read in 2015? Are you on GoodReads? If you like, you can follow me there.